Profit First
Adjusting Entries utilizes the Profit First method of cash management. Our team is trained and certified by the Profit First Professionals organization to guide business owners and entrepreneurs in maximizing their profits.
Any accountant can do your taxes and reconcile your books. But how many accountants will also drive profitability in your business? That's what we do. We are a Profit First certified firm.
Our firm is one of the select few, nationwide, that have received a certification in Profit First. What does this mean for you? We will guide you with the methods to greatly increase the profitability of your business. Of course, we will manage your accounting, do your tax returns and help you with your books – but any accountant can do that. We also provide the most important financial factor – maximizing your profits.
Give us a call (or drop us an email) for a profitability assessment and profit strategy guide. This service is completely free and by the end of our discussion you will be well equipped to boost your profits (fast).
As they say, the proof is in the pudding. Email (or call) us for a free profit maximizer session. We'll assess where you stand now, and give you actions that you can immediately use to grow your profits. The service is completely free! Why? Because we are confident you will be so impressed by what we can do for you, you will want to work with us going forward.
Is your accountant stuck in the old way of just doing the books and filling out your tax forms? Then we would love to show you what modern accountants do: They help you drive profitability. Give us a call (or send us an email) for a free consulting session. No strings attached.
The writer of Profit First Mike Michalowicz has made a playlist of YouTube videos about Profit First Myths.  The first of which we have linked for you here:
Clockwork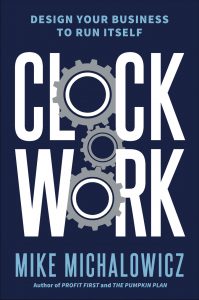 The author of Profit First has a new book that teaches tip and tricks about time management.
Here is a quote from Mike about this book:
Chances are you started a business so you could be your own boss, set your own hours, and bring your unique style to leading a team and solving business problems. In reality, you probably find yourself too bogged down in the daily grind of running your organization to experience the freedom and control you expected. That's about to change.
In Clockwork, you'll discover a simple, counterintuitive approach to creating efficiency that frees you up to pay attention to the things that matter, in life and at work. Regardless if you are a business of one, one hundred or somewhere in between, you will finally have an organization that get things done while you do what you want to do.
He also gives away the first two chapters of his book for free, click the link below to access:

Adjusting Entries along with Profit First have partnered with NorthOne to help with banking needs for the Profit First System.  It offers Profit First Allocation between accounts at no extra charge. What this means to you is, when you receive a deposit, you can preset the percentages associated with your accounts and it will process those transfers for you automatically.  NorthOne makes managing money easy, so you can focus on growing your business.  NorthOne is a Business Banking App built for America. No branches. No paperwork. No headaches. Apply for an account in minutes. As such we have been given the ability to offer one month free (a $10.00 Value).  The charge for a NorthOne account is $10.00 a month per COMPANY, not per ACCOUNT.
Please click the referral link below to start this process.
Adjusting Entries Referral Link for NorthOne